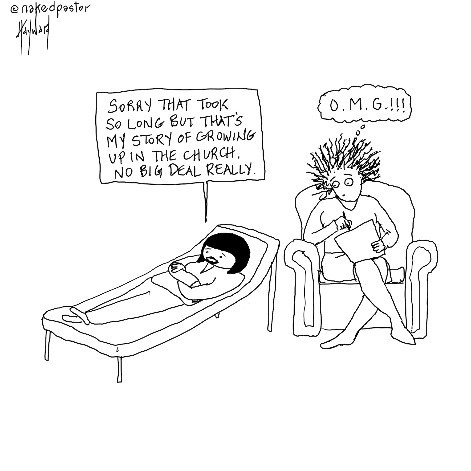 Tuesday, March 14, at 7:00 PM Eastern
A Deconstruction Discussion with David Hayward, the "Naked Pastor"
There is a lot of talk today about people going through deconstruction, and we know this is a topic of interest among many in our MK community. Please join us for a discussion about deconstruction with David Hayward, also known as the Naked Pastor. David is well-known for his "art that starts honest conversations about life, healing and spirituality." You can learn more about him on his FB page or check out his website at nakedpastor.com. 
This is a Zoom event.
https://www.facebook.com/events/752219396213248
*Artwork used by permission from David Hayward, as promo for this event only.
---
Friday, April 14 & Saturday, April 15
Our friends at A Better Way will host a Child Abuse Prevention Meeting in Fredericksburg, OH. Two of our board members, Dianne Darr Couts and Dale Ingraham, will be speaking at this event.
Come and get training from professionals on identifying and reporting abuse and making our homes, churches, and communities safe places. Learn ways to teach and empower children, how to respond wisely in the event of possible abuse, topics of special interest to survivors, and much more.