2008-2009 (and beyond) – Screenings of All God's Children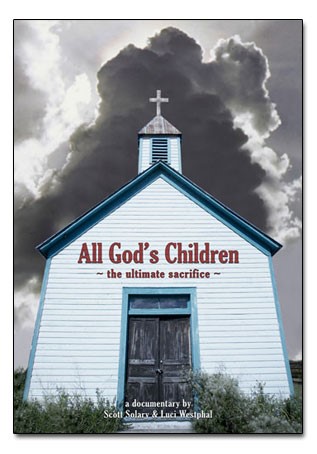 All God's Children was screened at various locations across the U.S. and overseas, beginning with the Sarasota Film Festival, Hollywood 20 Theater, April 4-5, 2008. This documentary tells the personal story of the first boarding school for children of Protestant missionaries to be investigated for child abuse at the hands of the parents' missionary colleagues. Learn more at: http://www.allgodschildrenthefilm.com/. The documentary (in 10 parts) can be viewed for free here.
---
2009 – MKSN at SNAP Conference in Washington, D.C.
SNAP (Survivors Network of those Abused by Priests) featured the documentary All God's Children at their 2009 Conference in Washington, D.C. The directors of the film, Scott Solary and Luci Westphal, attended as well as MKSN board members Marilyn Christman and Beverly Shellrude-Thompson and future board member Dianne Couts. They are pictured with Dave Clohessy, and Barbara Blaine.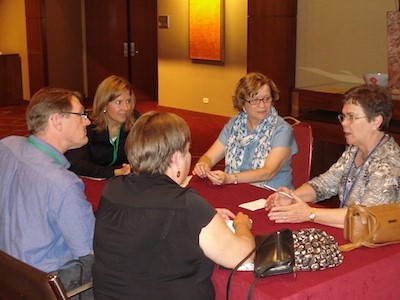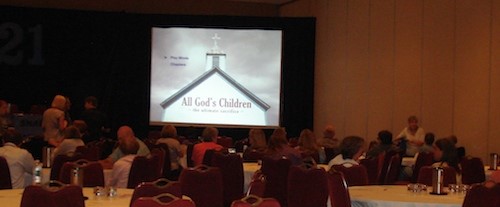 ---
October 29-30, 2012 – MKSN at Penn State Conference 
MKSN was represented by invitation at the conference ("Child Sexual Abuse Conference: Traumatic Impact, Prevention, and Intervention") with a display table staffed by Shary Hauber and Dale Ingraham. Penn State took a strong stand against abuse. Featured speakers included: Sugar Ray Leonard, professional boxer, motivational speaker, and Olympic gold medalist and Elizabeth Smart, whose story of abduction from her home and being held for more than nine months, is widely-known.
---
April 18-21, 2013 – MKSN Chicago Conference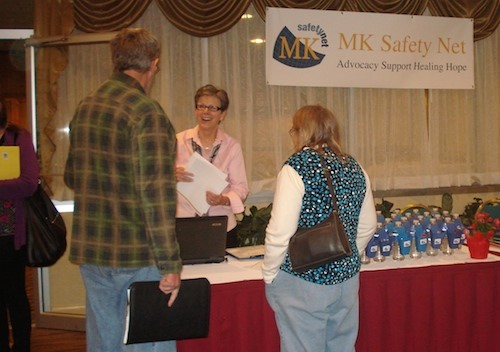 Advocacy Summit Sessions – April 18 and 19, 2013
• Reporting Abuse to Civil Authorities – Thursday, 2:00 p.m. - Basyle "Boz" Tchividjian, JD and Rev. Dale and Faith Ingraham
This session will address the many challenges and complications with reporting abuse perpetrated on the mission field to the proper legal authorities. We will discuss the various reporting considerations and methods needed to insure the greatest likelihood of achieving justice. 
• Initiating In-depth Investigations – Thursday, 3:45 p.m. - Boz Tchividjian, JD
Here we will outline the most effective steps victims and families can take to ensure that past abuse is addressed in a truthful and transparent manner. We will address the many difficulties associated with this process, along with providing suggestions on how each can be successfully resolved.
Networking Session for Summit Participants who work in various capacities within the MK community Thursday, 7:00 p.m.  
• Using Media – Friday, 8:45 a.m. - David Clohessy
This workshop will focus on how talking to the media can not only help victims heal, but also protect others. Practical "how-to's" will be provided as well as role-playing. David will teach skills that will help get journalists' attention, motivate volunteers, stay on message and reach/help other survivors.
• Reporting Abuse to Supporting Churches So They Will Take Action - Friday, 10:30 a.m. - Melodie Bissell, D.M. Candidate
How does a survivor of abuse, effectively share their story of abuse with Church leaders, funders and influencers, with a desired outcome of enlisting support to advocate for far-reaching reform within the mission community? This workshop will provide attendees practical strategies towards gaining the support of influencers and Church leaders.
MK Safety Net Conference Sessions April 19-21, 2013
• The Unexpected Journey – Friday, 7:00 p.m.
Key Note Address – Wm Paul Young; author The Shack and Cross Roads. 
• Journey Towards Wholeness – Saturday, 9:00 a.m. - Key Note Address – Beverly Shellrude Thompson
• Cutting Through the Challenges of Institutional Centered Missions - Saturday, 9:45 a.m. - Boz Tchividjian, JD
This session will focus on the dangers of institutional self-protection as it relates to how many Christian institutions respond to abuse disclosures and demands for independent reviews.  Common methods of "Christianized" institutional self-protection will be highlighted along with accompanying strategies on how each can be successfully addressed.
• Impact on Family Systems, Saturday 10:45 a.m. - Dr. Bob Campbell
The impact of childhood trauma is deep, but it is also wide – the entire family of the survivor is affected. This presentation will explore the many ways that family dynamics are shifted by the events of the past. The presentation will then focus on how to begin to heal family relationships, with breakout groups offered to provide a way to discuss individual situations.
• Spirit Journey – Abuse of Theology and How to Overcome Destructive Messages – 1:00 p.m. - Dr. Andrew Schmutzer
Victims of sexual abuse face many difficult challenges. Generally, the spiritual side of trauma and healing is not adequately addressed. Theologian and survivor Dr. Andrew J. Schmutzer unpacks some common destructive spiritual messages survivors often face and offers constructive ways to reclaim one's spiritual journey with Jesus Christ, who also suffered.
• Healing and Modalities of Therapy – 1:45 p.m. - Dr. Bob Campbell - 
The current research on post-traumatic stress is evolving. This presentation will look at different kinds of stressors, and discuss a variety of therapies that are available for each. It will also provide some practical tools that can be used to reduce the severity of several common psychological and physical symptoms.
Breakout Sessions – 3:15 to 5:15
• Use of Media - David Clohessy 
This workshop will focus on how talking to the media can not only help victims heal, but also protect others. Practical "how-to's" will be provided as well as role-playing. David will teach skills that will help get journalists' attention, motivate volunteers, stay on message and reach/help other survivors (even if the victim chooses to remain anonymous.)
• Accessing Your Body's Wisdom: New Alternative Therapies - Dr. Lois Kunkel, Bill Berry, and Teresa Lea
Participants will gain an understanding and have the opportunity to experience how Body-Centered approaches bring wholeness and healing back to the Body/Mind after the Trauma of Physical, Mental, Emotional, and Spiritual Abuse.
• Student to Student Abuse
Douglas Withrow, Therapist
During this session we will examine the developmental, emotional, social and relational factors of abuse. We will explore what is involved in healing for adults who were victims and offenders of abuse. We will identify ways to stop the cycle of abuse and share strategies for confronting abuse.
• Legal Options in US Jurisdiction/Canada/Other - Jerald Kessler, JD and Marc Pearlman, JD., Basyle "Boz" Tchividjian, JD
This presentation will include both litigation and mediation as two possible options open to survivors.  It will focus on the journey of survivors and the legal options survivors have in an effort to: 1) protect children and other vulnerable people from harm in the future; 2) find healing by reclaiming control and power over their lives; and 3) hold those responsible for the abuse accountable.
Panel Discussion – Sunday, 8:45 – 10:30a.m.
• Spirit Journey - Rev. Dr. Rich Darr, Moderator
Panel Members: Dianne Couts, Beverly Shellrude Thompson, Rachel Steffen, Boz Tchividjian and Wm Paul Young will talk about their spiritual journeys, reflecting a breadth of spirituality.  The discussion will include group interaction and an open mic session.
---
December 4-5, 2014 – MKSN at Child-Friendly Faith Project Conference in Austin, Texas
MKSN Board Member Rich Darr attended this conference to be at the question and answer session after the showing of All God's Children. Film producers Scott Solary and Luci Westphal were also at the screening of the film. https://childfriendlyfaith.org/conference-2014/
---
2014 – MKSN Mini Conference in Campbell, New York
9:30 Registration
10:00 Opening Remarks Dale Ingraham
10:15 Margi McCombs FACING THE BONE PILE
Part of the healing journey includes the practice of sorting memories. It can be a confusing, daunting and painful task. This session will offer an opportunity for participants to tell their stories in a supportive environment, and together, we'll explore some simple strategies for sorting out childhood memories.
11:45 break for Lunch at 12:00
 1:00 Beverly Thompson and Doris Glenn FACING TRAUMA TRIGGERS
Most people have experienced trauma, and many of us in the MKSN community experienced complex trauma. Long after abuse has itself ended, we often hold the memory of the trauma in our mind, body, spirit and relationships. Because of this, triggers can occur any time, any place and invoke aspects of the abuse we survived, often eliciting the same emotions that we had at the time of abuse. We're safe, but our past tell us there is a present threat or danger. We're going to look at where we hold memories, ways to identify triggers and practice some functional ways of "disarming" triggers.
 2:30 Break
3:00 Dale and Faith Ingraham SHATTERED DREAMS
'Shattered Dreams' is a presentation about when abuse tears apart the dreams of a family. It is the story of our family and how we dealt with the aftermath of abuse. And what we are doing now to each other to heal.
 4:00 Open sharing
4:45 Break for dinner at local restaurant
 Optional session
7:00 Dale Ingraham BLAMELESS IN HIS EYES
'Blameless in His Eyes' is based on Matthew 18:1-14 where Jesus speaks openly and clearly about child abuse. Jesus puts the blame at the feet of the offender and offers kindness and compassion to those who have been abused.
---
April 17-19, 2015 – MKSN Atlanta Conference
Conference Speakers:
Wm. Paul Young, MK and best-selling author of The Shack
Friday evening opening address
Boz Tchividjian, Attorney for abuse victims, Founder of G.R.A.C.E.
Dealing with Institutions
Joanne Colrain, Trauma recovery counselor
Recovering from Trauma
Ivan Fleishman, Ph.D., psychologist for victims of abuse and their families
The Effects of Abuse on Families
Peter Janci Crew Janci LLP Sexual Abuse Attorneys
Breakout sessions:
• Topics covered by the main speakers
• Legal options for abuse victims
• Creativity in the healing journey
• Recovering healthy spirituality after abuse in a religious setting
---
June 24-25, 2016 – MKSN at SNAP Conference in Chicago
MKSN board members attended this conference, where they viewed the film Spotlight and met some of the people portrayed in the film, including Phil Saviano, pictured above, and the actor who played him in the film, Neal Huff. Spotlight is a powerful film dealing with child abuse in the Catholic church. MKSN waits for the day when child abuse will be exposed in Evangelical/Fundamental mission organizations where it has been covered up for years. You can watch a trailer for the movie here.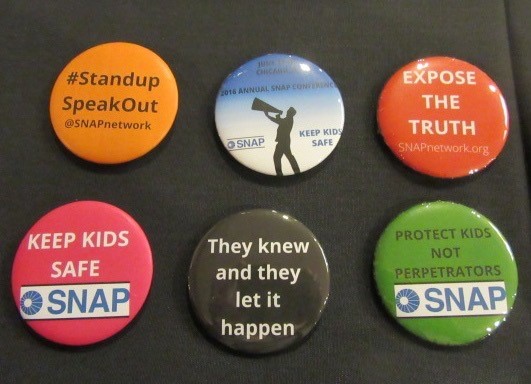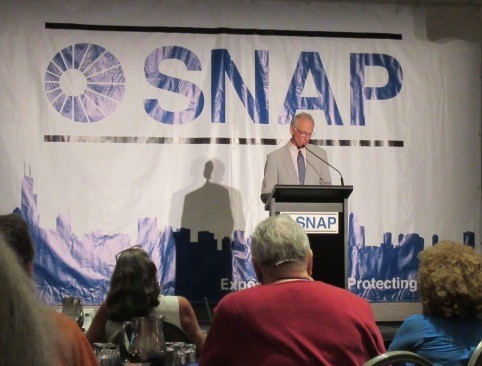 ---
June 26, 2016 – Following the SNAP Conference, there was a gathering for MKs in Geneva, Illinois.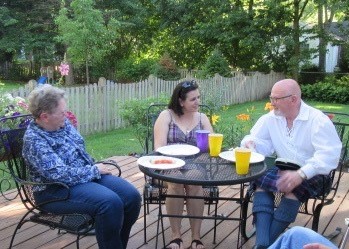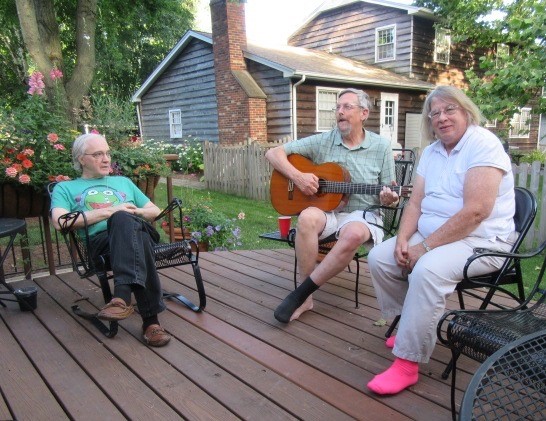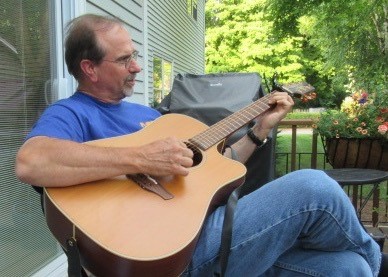 ---
Octoer 28-29, 2016 – MKSN at Courage Conference in Lynchburg, Virginia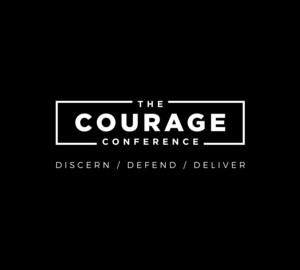 MKSN Board Member Shary Hauber had many opportunities to network about MKSN and to raise awareness of abuse in mission settings at the Courage Conference in October 2016. (In June, Boz introduced this conference's organizer, Ashley Easter, to the MKSN board when he knew we would all be at the 2016 SNAP Conference in Chicago.) It was also good to see Annie Abernathy at this conference! For a report about this conference visit:
http://www.ashleyeaster.com/blog/a-fantastic-weekend-the-courage-confere…